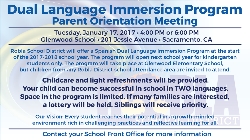 What

Dual Immersion Program - Parent Orientation Meeting

When

1/17/2017, 6:00 PM

–

7:00 PM

Where

Glenwood Elementary Cafeteria
Robla School District will offer a Spanish Dual Language Immersion Program at the start of the 2017-2018 school year. The program will open next school year for kindergarten students only.

The program will take place at Glenwood Elementary School, but children from any Robla District school attendance area are invited to attend.

This is an exciting new program that will provide instruction in English AND Spanish to children who are Spanish speakers and students who are English speakers. If you would like your child to become fluent in two languages, this is the program for you. Families who enroll their child will commit to the program for kindergarten through sixth grade. Students who enroll  in kindergarten next year will be the first class to participate. As these children move to a new grade, the program will grow with them, until we have Spanish Dual Language Immersion classes at all grades.

Come to this meeting to learn more about this type of instruction which is successful around the world and will now be available at no cost to Robla District students.
There will be a presentation with details and there will be time for questions from parents.